Pubg update topic covers
Find future technology in Mission Ignition
Explore the Tesla Gigafactory
Fight at the top with new guns and vehicles
Comprehensive upgrades for a refreshing and enjoyable experience
Important changes to the Royale Pass! Get more rewards, faster and for less!
To give everyone a better gaming experience, PUBG MOBILE will release updates starting July 9. The server will not be taken offline for this update. This update requires 686MB of space on Android devices. IOS version requires 1.64 GB.  Please note that players of different versions cannot merge, so please update as soon as possible.

Update to the new version between July 9-16 (UTC 0) to get the following:
2 888 BP
100 APG
Victorian blank backpack (3d) × 1.
New fashions, new experiences
Switching on the mission (7 / 9-9 / 6)
Technology and energy company DynaHex is implementing long-term technological transformations on Erangel. They want to use Erangel as an experimental base for their latest scientific research. You can access this mode through EvoGround and discover a new Erangel that has been altered by technology. As a reminder, players can collect evaluation points in this mode.
Complete transformation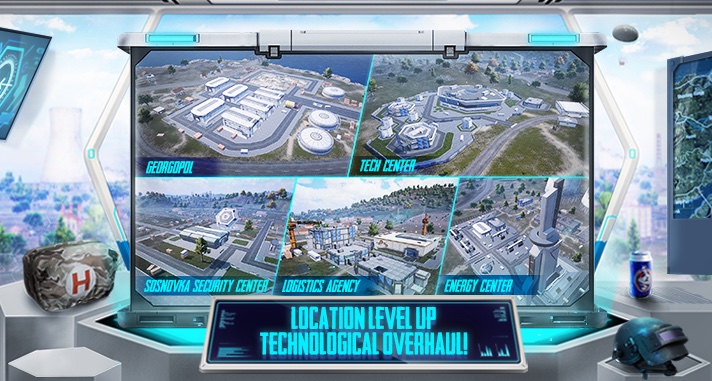 DynaHex transformed six main areas of Erangel based on military defense, energy use, transportation and logistics, and cutting-edge scientific research.
Transit center (formerly Pochinki)
Pochinki is the heart of the Erangel transport network and has today become the island's transit center. A new high-tech station and a support transport system are being built here. Take the city bus and use it as mobile coverage for a whole new transport experience.
Port of Georgopol (formerly Georgopol)
Georgopol's advantages as a logistics port will be further exploited with the introduction of a brand new central command center and fully automated warehouse, creating an efficient and scalable logistics port.
Tech Center (formerly school)
The former school zone now places more emphasis on academic research and cutting-edge research. The latest results of scientific research and the latest technologies are presented here. In terms of gameplay, there are many paths and structures here and various opportunities for unpredictable confrontation.
Security center (formerly military base)
The military base is responsible for overseeing the security of the entire island and providing armed support. Island-wide monitoring and rapid reaction devices are used here.
Logistics agency (formerly Yasnaya Polyana)
The logistics agency is located in Yasnaya Polyana and is an important distribution center for deliveries to Erangel. Supplies transported from the port will be  classified, controlled and distributed  from here   throughout Erangel.
Energy Center (formerly Mylta Power)
This organization provides energy for all fields and combines conventional power generation with the latest technology to produce   a stable supply for civilian and military buildings on the island.
In addition to this, you need to know more about it.
Mission Ignition Special Game Systems
Elevators, automatic doors and other moving platforms will appear in the updated urban area.
In order to make travel on Erangel more efficient, the logistics agency has set up HyperLines on Erangel to connect the various cities of the island. Players can use these HyperLines   to move between fixed locations at specific times and   take advantage of these features to use more tactics.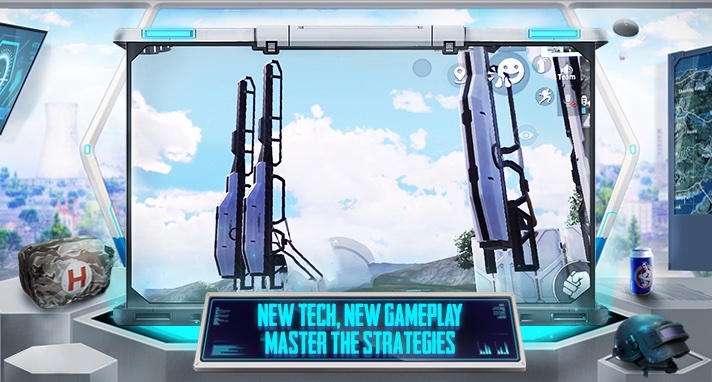 The command center has set up this special transport tool outside of certain urban areas and bases   to help security personnel travel in the air and conduct sky patrols.
Unique guns and accessories from Mission Ignition
The ASM Abakan fires 5.56mm rounds and has three firing modes: fully automatic, two-shot burst, and single shot. The special thing about this weapon is that the first two shots are extremely precise and can be fired in quick succession, which makes this weapon suitable for burst fire.
Grip attachments can greatly improve gun handling, improve vertical / horizontal recoil control, and speed recoil recovery.
This muzzle attachment can effectively reduce the scattering of the ball and control the recoil.
This magazine accessory can be attached to all rifles and significantly increases magazine capacity at the expense of a slightly longer reload time.
The unique new vehicles of Mission Ignition
The anti-gravity amphibious motorcycle has seating for 2 and can be used to navigate the map in comfort.
Unique items from Mission Ignition
This technically improves the appearance of objects in games. When equipped, it automatically marks the location of enemies it hits and also displays the status of teammates on the minimap when they attack.
Tap here to deploy a sturdy riot shield that can repel all bullets.
Unique Features of Mission Ignition
Spawn Island holographic display
A holographic display has been introduced on Spawn Island, showing the current game's map and flight path, as well as markers made by players.
During the flight and jump phases, players can tap directly on the map to set markers. The markers appear as pillars of light and the target's name is displayed in the air above.
A feature has been added that allows players to automatically jump to the marked location once the feature is activated.
More new content from Mission Ignition
Added flight animations for missiles before they explode in air strikes to make it easier to assess where they explode.
A display feature has been added to show the approximate location of grenades that explode near players.
Tesla (7 / 9-9 / 6)
Erangel's technological transformation caught Tesla's attention. Tesla will build a gigafactory on Erangel to build classic models of its cars, deliver technologically more advanced autonomous driving experiences, and provide transportation solutions. In the new Mission Ignition mode, players can experience exclusive Tesla content.
The Tesla Gigafactory is shown on the map. Turn on all the switches on the factory assembly lines to start the car assembly process and build a Tesla – Model Y vehicle.
Self-driving cars produced in the Tesla Gigafactory feature an autopilot mode that can be activated on highways on the map to automatically move players to the position of preset markings along the highway.
These autonomous transport vehicles developed by Tesla will appear randomly in the wild along the road and automatically circulate on certain routes. Obtain combat supplies by damaging the semi-trailer to cause it to drop supply crates.
New guns and combat improvements
New MG3 gun
NEW MG3 Light Machine Gun: With 7.62mm cartridges, this pistol has a unique fire mode and its rate of fire can be flexibly set to 660 or 990 rounds per minute, which allows both a Stable continuous firing and rapid spraying.
When used with a bipod, recoil is greatly reduced when shooting while lying down. This firearm only appears in air drops.
M249 adjustments
Now that the MG3 has been added to airdrops, the M249 will be removed from airdrops and instead spawn in classic mode all over the ground map.
Fire compensation system rate
A unified system for firearms with different frame rates has been added to address the issue of inconsistent rates of fire at different frame rates.
3rd person camera perspective settings
Added option to adjust TPP field of view. The TPP field of view can be adjusted in the settings. However, this option does not apply to some devices with a screen that already has a large field of view.
 New windows
Glass has been added to some buildings in Erangel and Miramar.
Glass can be shattered by melee attacks, gunfire, or climbing through windows, and makes noise when shattered, but does not heal when shattered.
Standard control logic improvements
Auto-recovery is disabled when a character is using medication.
If a melee weapon is picked up when a character already has a primary weapon, the melee weapon is stowed by default.
If a character does not have a pot, the character automatically takes a pot and equips it.
When a firearm runs out of ammo (including spare ammo) and another weapon still has ammo, the character automatically switches to that weapon.
Flare guns without ammo will not be picked up automatically.
Team Deathmatch – Hangar Upgrades
The cover near the villa spawn point has been improved so that it is almost as high as the top of the fruit stand.
The minimap size has been improved to better observe the combat situation.
Adjustments to EvoGround – Payload 2.0
We will continue to tweak EvoGround – Payload 2.0 to make it better than ever for everyone.

New fast wheel
New throwing wheels and consumables have been added to facilitate the use of throwing items and consumables:
Swipe over the consumables / launch material icon to open the wheel and change or use items.
You can activate the quick launch function in the settings menu. Once activated, press and hold the Launch icon to use Quick Launch.
You can activate the Quick Wheel Throw feature in the Settings menu. After activating it, slide the wheel and quickly select the throwable target for a quick throw.
New disposable consumables
Players can throw at point blank range the drugs they carry with them in the form of packages. Drugs that are ejected can be recovered.
New statue of victory
After winning, you can summon a statue to celebrate:
The winning team's MVP can summon a Victory Statue at a specific location.
Special celebratory emotes can be used near the Victory Statue.
New shots of victory
After winning in classic mode, you can switch to photo mode.
You can hide or show team member information in photo mode
You can share your photos after taking them.
New display of residual ammunition
Whenever a magazine is nearly empty, the color of the number that indicates your remaining ammo changes:
When you have 25% ammo left, the number turns yellow.
When you have 10% ammo left, the number will turn red.
New death replay data display
When Death Replay is playing, you can now see some public information of the player who eliminated you.
In the data, it is now possible to display data related to the accuracy of the shootout, including how often the player hit the opponent and how often the opponent hit the player.
An added report function.
Death replay can be turned on or off in settings.
Custom firearm settings
Players can customize the attachments for each gun and set different aiming attachments for different locations.
Once the settings are configured, the character will automatically pick up these attachments and equip them when they encounter them.
Special adjustments to gun sensitivity
For each firearm, players can configure custom sensitivity settings that will be applied when using the appropriate firearm.
Notifications for new teammates
When a teammate is in combat and taking damage, a notification will appear around the teammate's health bar to indicate that they are in combat.

Royale Pass Month 1: Tek Era (July 14 – December 8)
Royale Pass Month 2: Project T (13.08.-13.09.2013)
After the RP S19 ends, the Royale Pass will be adjusted to the month of the Royale Pass and players will be able to receive an exclusive welcome gift after accessing it for the first time!

Time Adjustments: The RP duration has been adjusted to 1 month, and in each release 2 RP are released in a row. RP M1 and RP M2 are introduced in this version.

Price Adjustments: The regular RP price has been adjusted to UA 360 and the Elite RP price has been adjusted to UA 960 (additional 1,200 points). Players who receive the new RP for the first time can collect vouchers (60-360 UC) and after reaching rank 30 in the current RP, they will receive a free voucher (60-360 UC) for the next RP.

Rank Reduction: The maximum rank has been adjusted to 50 without changing the quality of the rewards. Reach Rank 50 for a Mythic set and get a Legendary Firearm and a Rank 1 set.

Additional Rewards: Players can collect free rewards for reaching RP ranks. Achieve a high rank to get a voucher (60 UC) for the next season and a free additional set.

Mission Adjustments: The duration of RP challenge missions has been reduced from 8 weeks to 4 weeks while reducing the RP playtime requirements.
Earn bonus RP points at the end of the season.
In this event at the end of S19, players can complete missions to earn bonus points in advance for the next season.

Take part in the event to activate initial base points, complete missions to get bonus chances, and take advantage of bonus chances to get random bonus multipliers as a reward. The total number of points obtainable in the new season = starting base points × total bonus multiplier received.

Other adjustments: Adjusted the price of the EZ mission license, added a Royale Pass Month tab, etc.
clan
We present Clan Battle, a mode in which clans of the same type and level of activity compete against each other in a 14-day battle.
Clan members can complete Clan Combat Missions to earn Clash Points and the Basic Daily Reward.
Before the event ends, the clan with the most base rewards wins this season's Clan Battle.
Clan victories and individual contributions bring great rewards.
Ray is here!
Ray is here to keep you posted on all the important things. Do not miss!
New successes
New Subject Achievement: See to Believe (Exclusive), which can be obtained by participating in Mission Ignition and completing the achievement requirements from July 6 through September 6.
New Achievement: Season Veteran (Exclusive) which can be obtained before September 13 by being present when the Royale Pass season undergoes a transformation.
New achievement: Perseverance, which can be obtained by participating in the weekly Talent Championship.
New Achievement: Irresistible, which can be obtained by gaining respect for RP in a match.
New Achievement: Crit obtained by completing a game and rating a teammate.
Set Success To The Stars and Neon Punk will return for a limited time which will then be deleted forever.
RP gift
New RP perk – the ability to show respect in a match. Players can show respect to a teammate at any time during a match, and the respect message will appear in the chat history.

Players who have received respect can earn a certain number of RP points. RP points come from the system.
society
Grayscale tests are carried out in July in Indonesia and in August and September in other countries in Southeast Asia.
Authorized KOLs can form clubs and other players can choose a club to join.
Players can post and like photos, videos and comments in clubs.

Players can participate in discussions on various topics and post content there; The content of a topic can be displayed in the topic details.

Club administrators can host fan tournaments and club members can register to participate.
Club admins can sync content posted from third-party social media channels with the club.

Fundamental performance improvements:
IBL support and improvements to provide more realistic lighting effects in maps and to improve the distinction between textures.
Support sky light scattering including Rayleigh scattering, Mie scattering, atmospheric fog and other effects to make the sky more transparent and realistic.
Support richer vegetation effects, dynamic clouds, realistically simulated cloud lighting effects, etc.
Safety Zone Improvements:
In the new version, we have added more exciting event content and great rewards to the Safe Zone – Video Review, while further improving the video review process and operating experience.
An event screen has been added to facilitate navigation of the event content:
Recruitment Event: Exclusive rewards can be collected when there is a certain number of video reviews.
Daily Inspection Missions: Video inspectors can unlock a range of inspection missions and collect rewards.
Added additional permanent rewards like permanent outfits, avatar frames, etc. to encourage and support players to keep fighting scammers and scammers.
Security enhancements
Other strategic upgrades to target Weed Cheat, Recoilless Cheat, X-Ray Vision, Auto Aim, and Speed ​​Up Cheats.
Increased efforts to prevent the cracking of various resources.
Continue to strengthen defenses against various network attacks.
All Talent Championship upgrades
Regional rankings added
The newly added regional rankings are independent of the All-Talent Championship rankings.
Players who play at least one match each week will be ranked in their region for that week.

Teams are ranked in a random region after completing a game. The rankings of the different regions are independent of each other.

After weekly matches have ended, players can collect rewards ranked based on their team's placement in their region for that week.
Players can claim an active match reward based on the number of matches they play in Weekly Matches each week.
Weekly match ranking data and award eligibility is updated weekly.
Added new titles and achievements for the All-Talent Championship
Functional improvements
Universal markings improvements
The direction of rotation of the wheel slightly adjusted. Direction and styling have remained the same with the Voice Wheel.
Improvements to winning moments
The amount of time players can stay in battle after winning has been adjusted to 60 seconds.
The style of the lower frame of some function keys has been adjusted. Made minor adjustments to the standard settings, voice, graffiti, and emoticon button layout.
Death box display logic improvements
If players pick up another player's death box in a match after the box's six- and nine-square grid formats have changed, this is saved so they don't have to be changed again. .
Players can now adjust gyroscope sensitivity when aiming weapons in sight.
A switch has been added to apply inversion for the gyroscope. Once this setting is enabled, the up / down of the gyro will be reversed.
90 FPS is now available in Smooth Graphics for some new devices
Special adjustments for iPhone 12 and some other devices
System improvements:
Lobby banner improvements
The banner in the upper right corner of the lobby can now be swiped at different speeds.
Rewards screen improvements
The screen that shows you the rewards has been refined. Added button fade effect to prevent users from typing too quickly and accidentally jumping the screen.
The overview of the battle has been improved. Players can now rate, select tags, and provide game feedback to their friends.
Optimization of main screen information

Some players struggled to understand the squad interface on the main screen as the information was not displayed intuitively. This has now been fixed.

Access to vehicle and X-Suit functionality has been adjusted.
Torque optimization
The thumbnails of comments and likes of the moments are now displayed in detail.
When assigning likes at the start of a match or upon victory, the LIKE progress and the LIKE special effect of the team are displayed.
Cycle S1 season1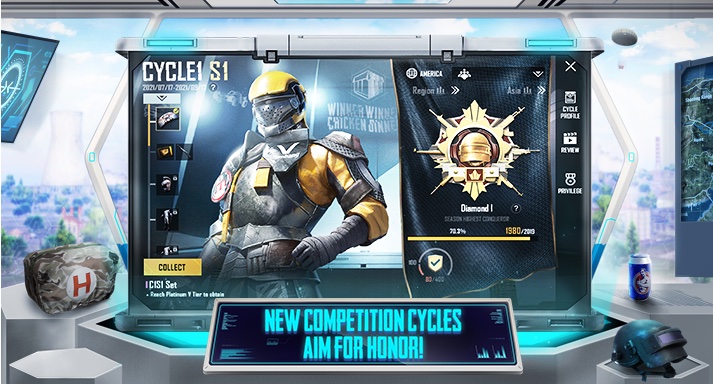 Challenge scoring system
The challenge point system is another set of rules used to assess player actions in games without changing the original rules for scoring games.
Get bonus challenge points if you don't complete the game, upgrade to AFK, or eliminate your teammates for an entire game.

If players lose a game while they have challenge points, they will automatically lose points based on their level. The higher the level, the higher the number of points lost.

Additional challenge points are awarded for completing the first match of each day.
Challenge Points can no longer be earned once the maximum amount is reached.
Challenge points are counted separately based on server and game mode.
Challenge points will not carry over to other seasons.
Level symbol improvements
The display of level symbols has been updated to improve their details.
Improve level upgrade effects.
Season screen updates
The information display on the Season screen has been adjusted.
Added reward growth and friend progression lines.
The way the rewards are presented has been adjusted.
The reward details screen has been updated.
Seasonal Reward Improvements
Silver level rewards added.
Ace level rewards added after level subdivision.
The number of mini-level rewards has been increased.
Like
Subdivision of the ace level into certain levels.
Added rewards and stock options for Ace division levels.
cycle
In the new version, several seasons are combined into a single cycle.
A cycle reward system has been added that allows players to receive rewards for collecting all badges of the same level in the same cycle.
Improved display of badge system screen, season profile screen and other screens.